Italian & Seafood Restaurant Bar PARADISO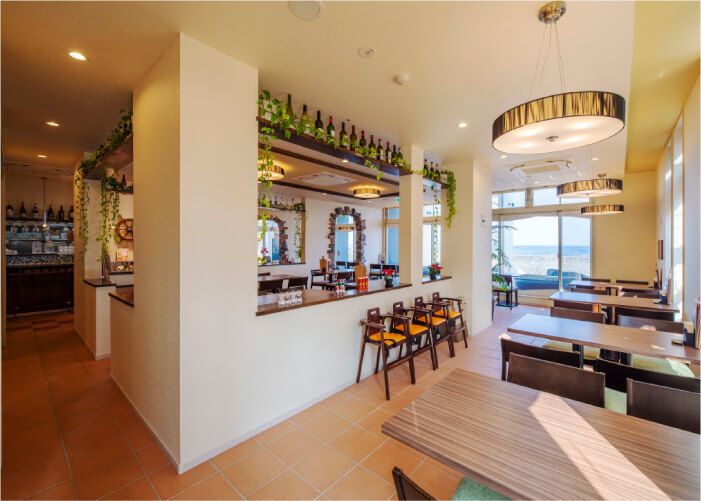 A stylish Italian Restaurant where you can enjoy a meal with a beautiful view of the blue Aoshima Sea. Popular dishes at Paradiso include Pizzas, Pasta made with the chef's handmade tomato sauce and dishes you can go wild eating with your bare hands. A restaurant serving food to surprise and delight. We have private rooms for more serious occasions and a take-out dining corner for casual occasions. With so many different dining options, it's a restaurant suitable for any occasion. We also have many course options for special occasions like anniversaries and we are happy to cater for parties as well. Enjoying the gentle sea breeze from the Aoshima sea on our terrace as one of the many important spices for our food.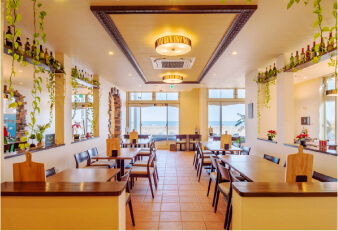 The restaurant: A wide-open dining area with sunlight pouring in from Aoshima. You can enjoy your meal on our terrace on sunny days. We also cater for large groups, private functions and a private room that accommodates up to 18 people.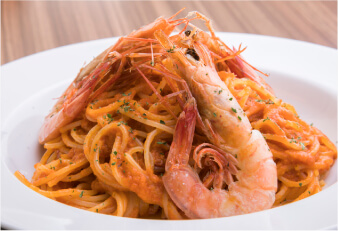 Rich Umisachi-Hiko Shrimp Pasta: Enjoy the renowned Umisachi-Hiko Shrimp (Jack-knife shrimp) mixed together with the chef's special prawn sauce (tomato base). The rich flavor and rich aroma of the Umisachi-Hiko shrimp, balanced perfectly with the acidity of the tomato sauce, create a harmony of flavors.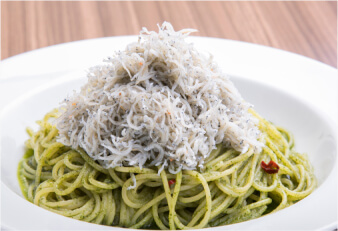 Ooba and Baby Sardines Genovese: A signature dish by our chef. The refreshing flavor of Ooba leaves compliment the soft and fluffy baby sardines perfectly. Enjoy the harmony of Ooba and the flavor of the baby sardines.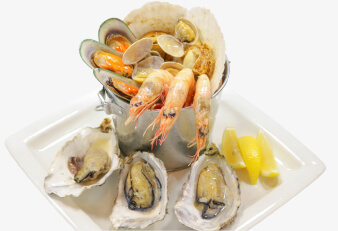 Seafood Bucket: A dish to be enjoyed with your bare hands. Put down your utensils and enjoy a mountain of Umisachi-Hiko Shrimp (Jack-knife shrimp), oysters, mussels, scallops and clams piled into a bucket. Enjoy a wild meal that you don't get to experience every day.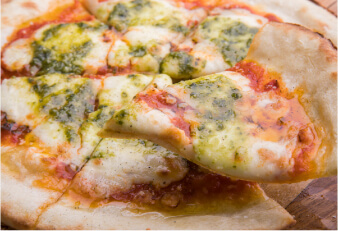 Margherita: Paradiso's most popular pizza, the Margherita. A pizza where you can really enjoy the chef's special tomato sauce. The tomato sauce, the fluffy pizza dough, and fresh basil are sure to put a smile on your face.
Course Menu: Please take advantage of our course menu for parties or special occasions. You can enjoy a wide variety of Italian dishes such as pasta, aquapazza and even desserts. We are happy to cater for different needs and budgets, so please feel free to contact us.
Business Hours
Lunch 11:30 – 14:30 (last order 14:00)
Cafe 14:00 – 17:00 (last order 16:30)
Dinner 18:00 – 22:00 (last order 21:30)
Takeaway 11:00 – 20:00
Email:
afbh@maemura.co.jp