Facilities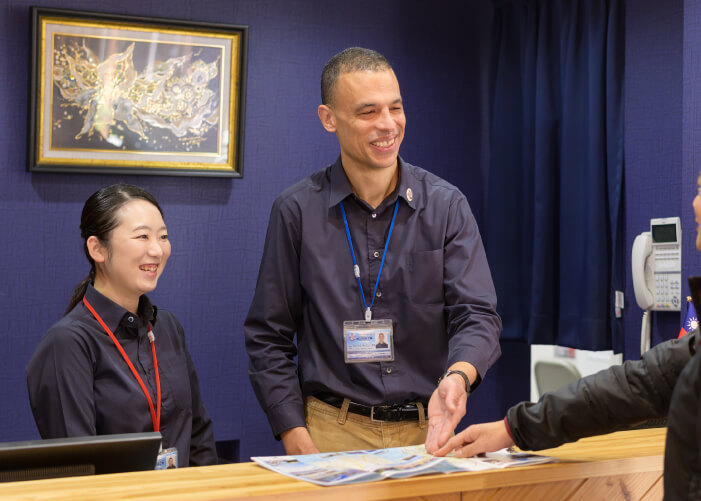 Facilities
Laundromat
We have a 24 hour Laundromat on the premises. There are 5 washing machines and 5 dryers. Very convenient for families, sports teams or long term guests.
Prices: Wash 200 yen • Dryer (10 min) 100 yen • Detergent (per bag) 100 yen ※sold at the Front Desk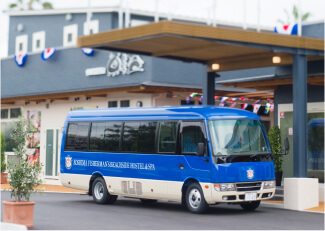 Free Shuttle Bus Service
We have 2 shuttle buses that seat 22 passengers each. For groups of 15 people and more, we offer free shuttle bus service to any specified location within Miyazaki City.
(Please inquire by phone before arriving if you wish to use this service)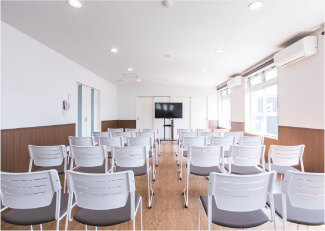 Meeting Room
We have 2 meeting rooms which are perfect for seminars or meetings. By retracting the moveable walls, we can expand the room to accommodate 50 people, making it suitable for a wide range of functions. Free rental equipment: projector, screen, white board, podium, TV, DVD player and radio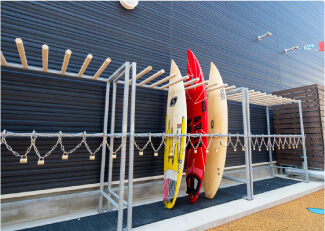 Surfboard Rack
We have free surfboard racks with a lock and key available. We will give you a key at the Front Deck.
Please feel free to ask one of our staff.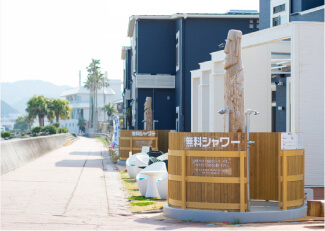 Free Spring Water Shower
The unique looking shower in the shape of a Moai. It overlooks the sea and utilizes straight natural spring water. The water temperature is lower than 25 degrees. Anyone is welcome to use this shower for free, so please feel free to use the shower after swimming in the sea and playing in the sand.
The ocean is right in front of the hotel!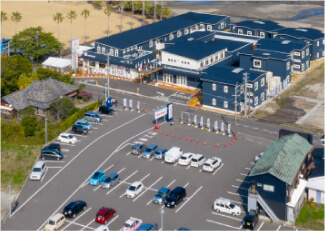 Free Parking Lot
We have a large 130 car, parking lot that is open to hostel guests and anyone visiting Aoshima. Guests driving large vehicles such as camping cars and buses can also use our parking lot.
※Please contact us prior to your arrival if you wish to park a bus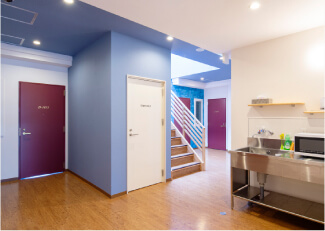 Our hostel facilities
The number of rooms in each building at our hostel varies from 7 to 15 rooms per building. In the hallway of each building, we have a microwave, electric kettles, and a sink. Depending on your group size, you can rent an entire building, so please inquire with us.