Japanese Style Aoshima Seafood Uomasu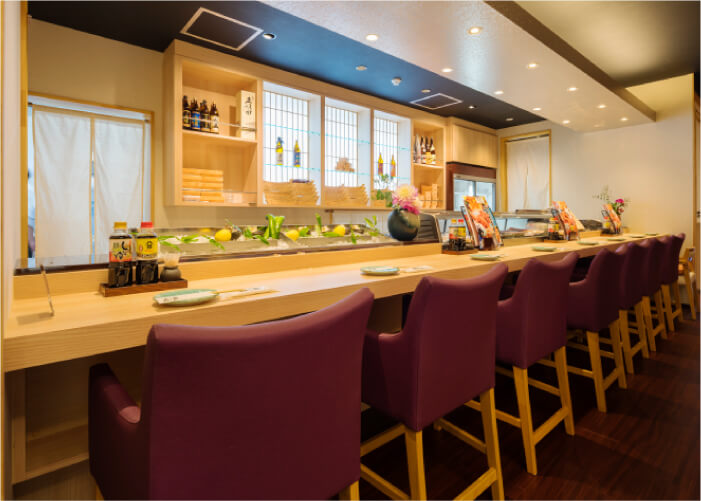 This is a Japanese style restaurant where you can enjoy original dishes that focus on the flavor of the ingredients, along with favorites such as sashimi and sushi. You can enjoy a selection of seasonal fish such as bonito or tuna alongside the freshest seafood caught in the Aoshima bay area. Apart from seafood, Uomasu also has local dishes such as chicken Nanban (Fried chicken with tartar sauce) and char-grilled chicken thigh which Miyazaki is famous for. They also have rice bowls, set menus and other deep-fried dishes. This makes Uomasu a restaurant suitable for not only dinners, but for a wide range of occasions such as casual lunches and groups. At the sushi counter, you can watch the Itamae chef prepare fish and sushi with master proficiency right before your very eyes. Enjoy wonderful food prepared by some of the best Japanese chefs and conversation with our friendly staff.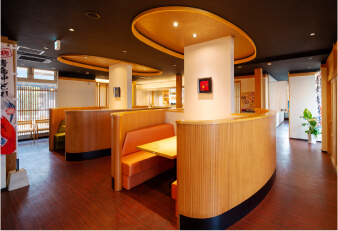 The Restaurant: There are counter seats, tables and horikotatsu floor seats (floor seats with an indented floor for leg space). The restaurant seats a maximum of 80 people. The horikotatsu area, can be divided into two 24 person private rooms.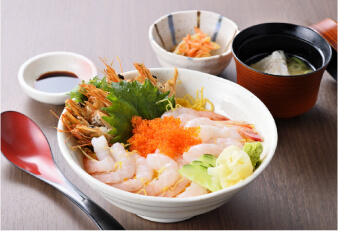 Umisachi-Hiko Shrimp Rice Bowl: A dish loaded with Umisachi-Hiko Shrimp (Jack-knife shrimp), a local delicacy. You won't be able to stop yourself from taking another bite once you experience the juicy succulent shrimp that explode with flavor. The shrimp go best with sweet soy sauce made here in Aoshima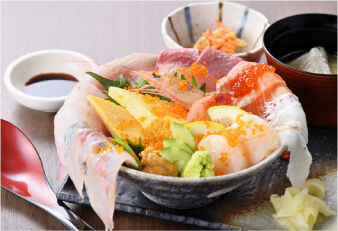 Uomasu Overflowing Seafood Rice Bowl: An incredible fresh seafood rice bowl with so much seafood, it's overflowing from the bowl. A real luxury which is hard to come by, even in a fishing town like Aoshima. Overflowing with seasonal seafood such as salmon roe, sea bream, tuna and of course Umisachi-Hiko Shrimp (Jack-knife shrimp).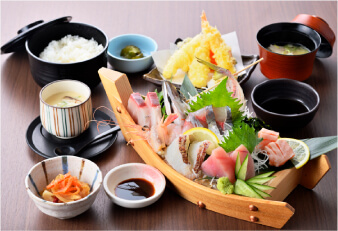 Aoshima Sashimi Set: Freshly caught fish from the Aoshima Bay area, is arranged artistically on a miniature boat called Funamori. This set is great value for the price, because it also comes with Tempura and Chawanmushi (steamed egg custard). A great way to experience Funamori sashimi at a reasonable price.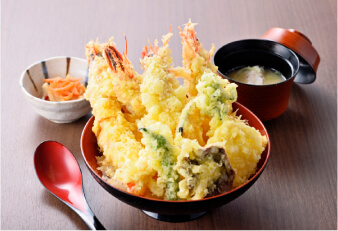 Uomasu Special! Large Prawn Tempura Rice Bowl : A memorable rice bowl with surprisingly large Prawn Tempura. Enjoy the prawns with plenty of seasonal vegetable tempura. So much tempura, you can't even see the rice!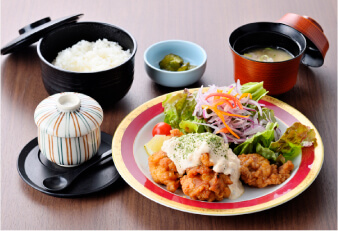 Chicken Namban Set : An Uomasa style twist on the Miyazaki classic chicken nanban. There are many people who travel to Miyazaki from other prefectures just to eat this dish. If you are from Miyazaki Prefecture or just visiting, you need to try this.
Business Hours
Lunch – 11:30 – 14:30 (last order 14:00)
Dinner – 17:00 – 21:00 (last order 20:30)
Email:
afbh@maemura.co.jp